Storm - Men's Waterproof Cycle Jacket
Storm - Men's Waterproof Cycle Jacket - 3 Layer Construction
As the name implies, our heavy hitting rain jacket is made to get you through the storm warm, safe and dry. This incredibly well designed jacket offers great waterproof protection while remaining highly breathability and flexible, and that's no mean feat. The Storm does away with the bulk and brand premium of other jackets, giving you the features you need without the unnecessary bulky cost. We don't do loose flappy jackets, ours has 12% spandex to stretch with you rather than create huge wind resistance (we want the effort to go into the pedals!). We tested this jacket for over a year in all sorts of conditions before we went into production.
For the scientists or the technical minded that's 10,000mm H20 waterproof protection and 10,000 GR 24Hrs in breathability. The 3 layer fabric gives you exactly the protection you need. The first layer is a DWR (Durable Water Repellent) top coat so water beads off the surface. Then there's the all-important waterproof middle layer, and finally an inner coating to protect the waterproof middle layer from wear and to stop the pores in the waterproof layer getting clogged and to remain breathable. The inner layer also allows the middle waterproof layer to be lighter in weight, reducing the jackets bulk relative to other jackets. To compliment all this we fully seam sealed all the fabirc joins and added full length YKK waterproof zips, while the back storage pocket is fully waterproof to ensure your belongings remain safe and dry. Don't be fooled by the black logos and reflective marks on the back, they glow like possum eyes at night. Rounding off the package we added a drop-tail to ensure your toosh remains protected from road water spray.
No hood? No, we've ridden stage races for years and from our experience the hood just gets in the way, it's bulky, fills with water and rubs against your helmet. 
For warmer cycling weather, check out the rest of range of men's cycling and bike jackets.
140gsm weight waterproof fabric,  88% polyester and 12% spandex. 100% waterproof.

3 layer waterproof fabric - 

3-layer construction features the highest performance and best quality layering that is possible. This type of construction features a laminated external DWR fabric as the first layer. The fabric is then bonded to a waterproof/breathable membrane in the middle, the second layer. A polyurethane (PU) film or lining covers the second layer, which acts as a shield.

Fully taped sealed to keep the water out
DWR water repellent treatment on surface
Full YKK Waterproof zip 
Rear waterproof zipper pocket
Waist with gripper
Large reflective logo
Packs down easily
Check out the gallery for our cycle gear in action.
Material: Durable Water Repellent
To test your jacket's DWR, sprinkle on some water. If the water beads up, your DWR is working as it should.
If the water soaks in and obvious darker areas appear, it is time to restore your DWR. Be sure to test your jacket all over, as soaking can occur from any breach. Restoring your factory applied DWR is easy, simply wash and apply heat as below.
Line dry your garment or tumble dry it on a warm, gentle cycle.
Once it is dry, tumble dry your garment for 20 minutes on low to medium heat to reactivate the durable water-repellent (DWR) treatment on the outer fabric.
If unable to tumble dry, iron the dry garment on the gentle setting (warm, no steam) by placing a towel or cloth between the garment and the iron.
This will help reactivate the DWR treatment on your garment's outer fabric.
These steps will restore the factory durable water repellent treatment and water may bead up on your outerwear.
If it does not, it's probably time to apply new DWR to your jacket.
Silversky suggest using Nikwax TX.Direct® Wash-In will help restore the waterproof/breathable performance
Your height and weight are the best guide to your size for cycling tops. The upper end of the range will be tighter and the lower of the range looser. Remember tops are mostly slim fit and are designed that way to take moisture away from the body, if you prefer a looser fit go up one size.
Please contact us if you're unsure about sizing in any way.
If you're unhappy with the size please return to us and we'll cover the cost to reship the correct size or style.
Example MEN:
 A 77kg man at 178cm tall will wear size MEDIUM in the Storm.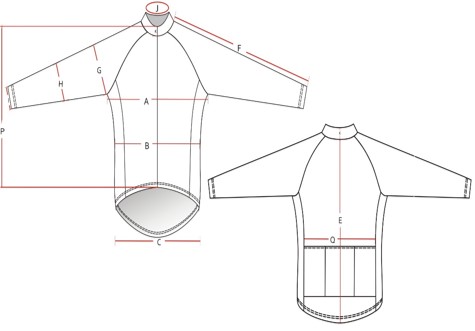 | | | | | |
| --- | --- | --- | --- | --- |
| MEN'S | | | | |
| NZ SIZE | S | M | L | XL |
| A (1/2 Chest) | 53 | 56 | 59 | 62 |
| B (1/2 Waist) | 47 | 50 | 53 | 56 |
| E (Center Back) | 72.8 | 75 | 75.2 | 75.4 |
| F (Sleeve Length) | 74.5 | 76 | 77 | 78 |
| P (Front Length) | 57.5 | 59.5 | 59.5 | 59.5 |
| Weight (kgs) | 65-75 | 70-80 | 75-85 | 80-90 |
| Height (cms) | 160-170 | 165-175 | 175-185 | 180-190 |
Note: Model is 77kgs and 178cm tall, wears a size medium.