CrazyMan 2019 - Vader Cycle Jersey Men's on display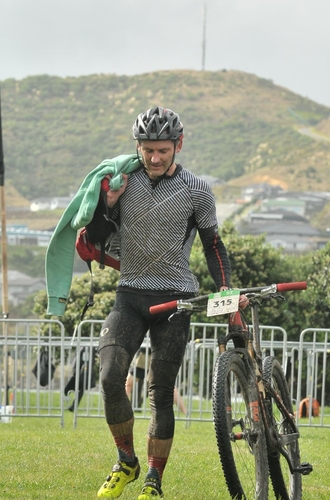 Some races you just don't feel it…enter The Crazyman 2019. Late to the start line and starting way back wasn't ideal, but after a few minutes I'd made my way near the front for a slippery climb above Porirua. Not thinking I forgot we'd be coming down the same slippery surface we were climbing, think descending on a hydro slide and you're close. Anyway a lot of fun and some edge of the seat descending and one trip into the bushes we were back on the flat. Enter the Colonial Knob MTB park, a monster ascent that seemed to keep going forever, I felt rubbish for whatever reason and just couldn't get into a rhythm not helped by two whippets on my tail the entire time. After one monster ascent, comes a monster decent, and being old on a slippery surface and as my mate Jason pointed out skinny tyres I took the safe slower option. Then onto the finish, a break neck pace along the river trail to finish in the heart of Porirua it was a lucky third off the bike, only 15 seconds odd off the lead I'll take it. I'll be back. Note the real live testing of the Vader protype, real McCoy on its way with a few design tweaks.
The Vader Mens Cycle Jersey on display along with the Sock Monster Cycle Socks. Get them now!
Posted: Sunday 12 May 2019